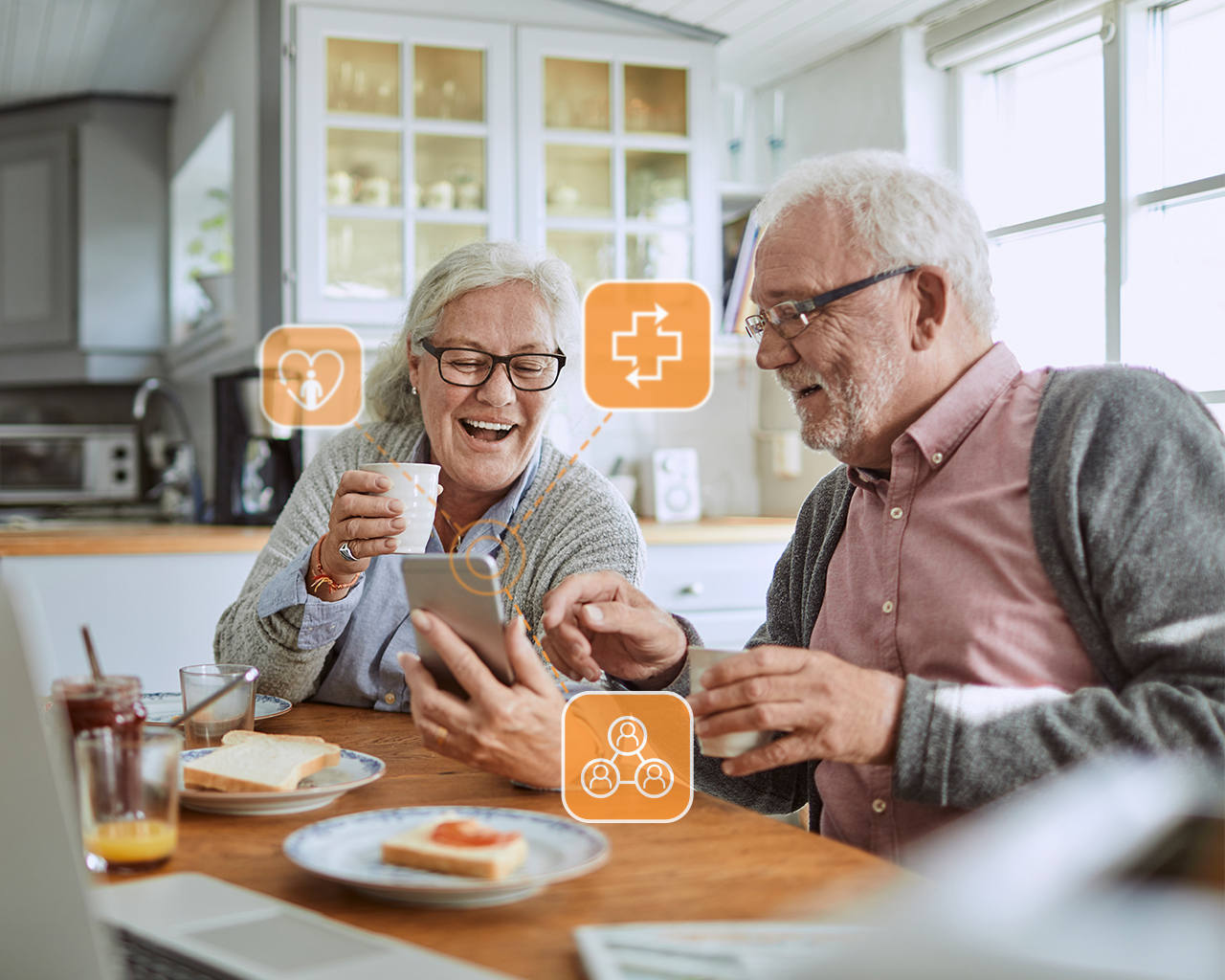 Completely connected alarm system for the home
The Lifeline Smart Hub is Tunstall Healthcare UK's latest IP unit for connected care in the home, opening a new world of possibilities for people to live independently for longer.
---
Bringing remote sensors, monitoring and response together
The Smart Hub will link with a wide range of sensors around the home and is directly connected to monitoring centres through IP technology. Up to 50 sensors can be linked, including heat, carbon monoxide, fall detection, and fire and smoke, ensuring that the user has access to help in their home 24 hours a day, 7 days a week.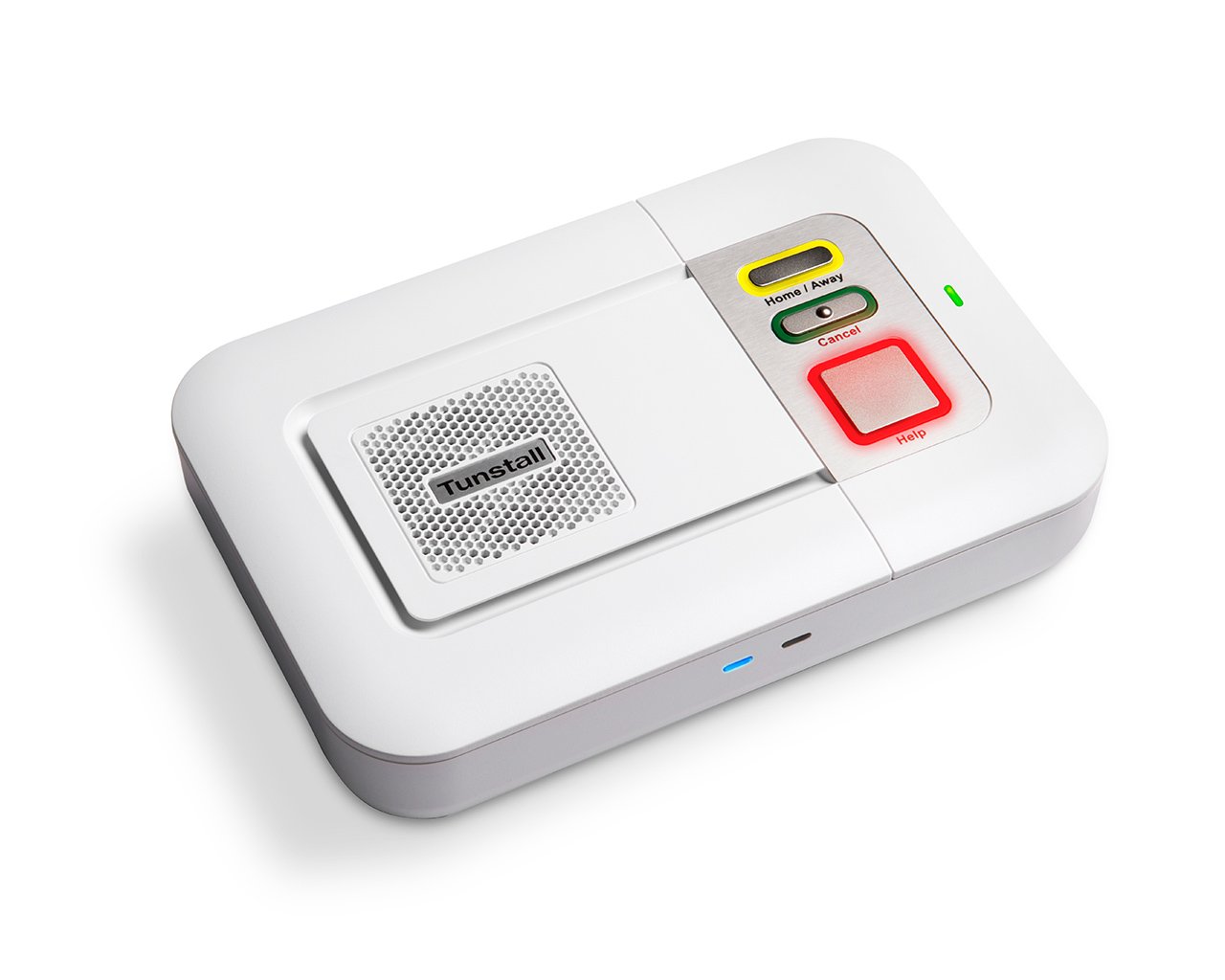 ---
Cloud-based connected care
The Lifeline Smart Hub is Tunstall's most powerful home unit. Using cloud-based technology – Tunstall's secure Device Management Platform (DMP) and call handling (including PNC or other compatible monitoring systems) – the Smart Hub provides advanced, future-proof, fully connected, remote patient care.
24/7 wellbeing monitoring
Round the clock monitoring links service users with immediate assistance from anywhere in their home. Intelligent connectivity and monitoring means that wellbeing tracking and alarm data is live and in real time. The DMP also captures data on the performance of the hub and any linked devices. Live updates available through the DMP web platform enable proactive management of the Smart Hub for a complete care solution.
---
Robust and reliable for reassurance at home
Whether it's for support in the home or in group living accommodation, the flexibility offered by the Smart Hub gives users, families and carers the reassurance that help is always on hand. Automated heartbeats confirm units are active and connected to mains power. A long battery life protects users in the event of an outage to ensure continuous monitoring and a response to alarm calls and requests for support.
Designed to evolve
The high degree of flexibility and state-of-the-art technology offered by the Smart Hub system benefits a variety of users. Smart Hubs are registered, configured and updated remotely as an individual user's needs change, minimising disruption for the service user and reducing the need and cost of maintenance visits.
---
The Smart Hub gives confidence to older people living alone, those recuperating after a hospital stay and anybody with reduced mobility or long-term health conditions.
---
How does it work?
Alarm calls are made when the user presses a button on the Smart Hub or pendant worn on the neck or wrist. Calls are sent over a cellular network or ethernet connection via the home broadband network. Calls are answered by specially trained remote monitoring centre operators, who access the user's information through PNC and respond appropriately, either contacting a family member, a neighbour or calling the emergency services. IP technology not only allows calls to be made, but can also collect monitoring data, provide vital information on the hub's status and enable remote upgrades. It also supports the introduction of future services, including smartphone apps.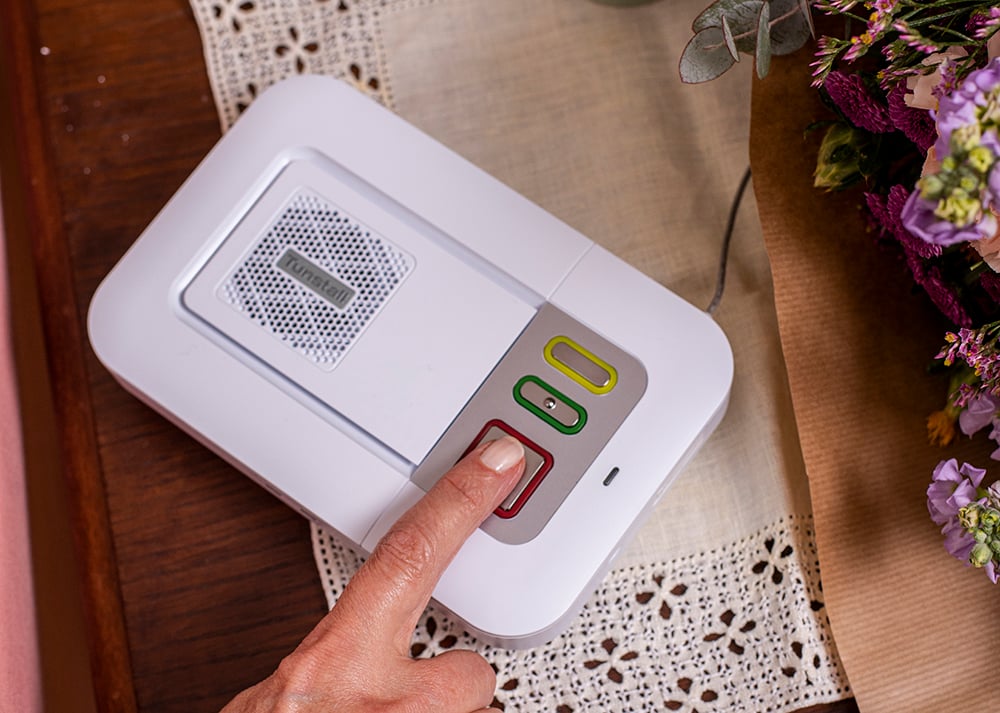 ---
Technical features:
Complete 'Connected Care' home unit with monitoring and alarm features
Remote configuration and device management via the Device Management Platform (DMP)
Remote updates to enable quick and seamless introduction of new services
Robust and reliable with regular heartbeat checks to ensure performance and functionality of the hub
Advanced sensor integration – Compatible with current Tunstall sensors e.g. Smoke, CO, Fall detectors
Digital IP technology for a future-proof solution with cellular and ethernet connectivity providing robust network connectivity
Reporting and event tracking for proactively managing care
Future expansion of features and services to meet users' evolving needs
Reversion protocol – as backup to IP
Controlled levels of user access
Configuration set up templates
Optimum cellular connectivity
Enhanced Intruder Alert functionality
VOIP over 4G connection
Features for the user:
Multiple positioning options – flat, table stand or wall mount
High quality speech – with automatic gain control
Audible status messages – providing clear and intuitive feedback to the user
Automatic audible warning alerts – the unit alerts the user to mains and communication failure/resumption with a visual and spoken message
Optional local audible warnings – non-critical warnings such as mains failure can be turned off at night to avoid disturbing the user
Away mode button – suspends inactivity monitoring
Event based configuration – all events are configurable to select the required behaviour and response to events
Basic inactivity monitoring – checks for inactivity over a 12 or 24-hour period
Event blocking during configurable time window(s)
Virtual Property Exit Sensor functionality - intelligently process a series of events within the Smart Hub to determine a course of action
Door lock release under control of the monitoring centre
---
The Lifeline Smart Hub is robust, reliable, future-proof and easy to install.
Tunstall's Lifeline Smart Hub. Connecting people, connecting care.
---
Contact us
To find out more about this product, please get in touch by filling out the form below.
---