Important Safety Notice | Lifeline Vi and Vi+ Products with lithium-ion batteries
Nov 30, 2022
Tunstall has produced over 2.5 million Lifeline Vi and Vi+ units globally since 2012. From October 2019 the unit was modified to include a Lithium-ion battery. We have recently received a number of customer reports regarding the reliability of the Lithium-ion back-up battery in these units.
There have been four instances reported globally (two in the UK and two in Spain) where units that contained a Lithium-ion battery have overheated and ruptured, resulting in damage to the unit and, in one case, a scorched carpet. There have been no injuries or house fires reported in connection with any of these incidents. In at least two of these instances, the hub has been situated in close proximity to external heat sources. It is possible that the batteries could be an ignition source and present a burn hazard.
Units supplied before October 2019 are not affected by this issue. Further information on how to identify units which may be affected is set out below.
The safety, health and wellbeing of our customers remains Tunstall's primary focus. As such, Tunstall are conducting an in-depth technical and quality investigation and health hazard assessment, working with our battery supplier and external independent experts.
We will update you with the findings of our investigation as soon as possible and, in any event, will provide you with a progress update during the week commencing 12 December 2022. In the meantime, we would like to emphasise that customers and installers must follow the instructions in our user guide and installation instructions.
Action required:
• Ensure all Lifeline Vi and Vi+ units are located as per installation and user guide recommendations.
• Please remind customers that units should be located in a well-ventilated space and not be placed on or near a source of heat. Heat sources may include radiators, direct sunlight, heaters, internet and TV boxes.
• Do not place objects that create significant noise and/or heat, or objects that are made of metal close to, underneath, or on top of the home unit. For example, televisions, radios, microwaves, Wi-Fi routers, mobile phones, and computers.
• Do not place near flammable materials.
• Please inform us of any reports from customers that may relate to this issue.
The user and installation guide for the product can be found here.
If you have any immediate questions, please contact your account manager and to raise any safety concerns directly, you can contact us directly at Safety@Tunstall.com
How to Identify Lifeline Vi and Vi+ units affected by this issue
• Find the part number on the unit label (circled in blue in the image below for demonstration purposes) and locate in the table below
• Check if the Revision level shown on the unit's label (circled in red in the image below) appear in the 'Revision' columns in the table below to the right of the part number.
• If the part number and revision are referenced in the same row in the table below then the unit contains a Li-ion battery and is affected.
In the example image the part number is 57100/320. The row in the table contains revisions P1, P2, Q1 and R1. Thus a 57100/320P2 unit is affected.
As a further example, a 57100/320N1 unit does not appear in the table and is not affected.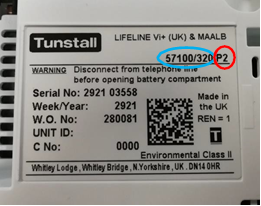 Part Numbers affected by this issue:
Part No

Revision

57000/320

N1

N2

P1

Q1

57000/622

B1

B3

B4

B5

C1

D1

E1

57100/300

K1

K2

57100/320

P1

P2

Q1

R1

57100/322

H1

J1

57100/323

C1

C2

D2

57102/321

M1

M2

N1

P1