ConnectiON – Issue 13
Welcome to Issue 13 of ConnectiON.
This issue of ConnectiON introduces you to Tunstall Cognitive Care®, the next stage in our journey to making our vision a reality. Tunstall Cognitive Care is an advanced system that brings together data from multiple sources, and uses this insight to enable care to become more intelligent and person-centred. You can find out more about Tunstall Cognitive Care on page two.
Also included are some great examples of the ways we are working with our customers and partners to change things for the better for people who need care and support in the UK, both now and in the future.

Download your copy now to read more.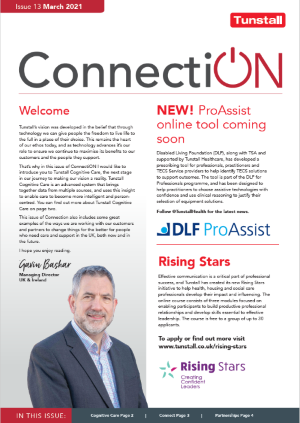 Issue 13 - 01/04/2021
Sign up to ConnectiON
Complete your details below to join our mailing list.
---