ConnectiON – Issue 12
Welcome to this special edition of ConnectiON.
Since joining Tunstall 18 months ago, I have been swept up in the passion for what we do and the firm belief that we are making a difference by helping people to live their lives to the full. As the sectors we operate in continue to evolve, Tunstall is also changing to enable us to best meet the needs of our customers and the people they support. As market leader, we continue to pioneer, and to support this progress, it's essential that we structure our commercial and allied teams appropriately. We have therefore developed a new, regionalised and collaborative structure, and this special edition of ConnectiON has been created to give you more detail on this approach and introduce you to its members.
The team looks forward to working with you to overcome the challenges of delivering health, housing and social care for current and future generations in this changing world.


Download your copy now to read more.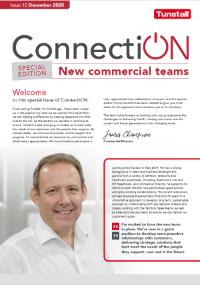 Issue 12 - 10/12/2020
Sign up to ConnectiON
Complete your details below to join our mailing list.
---