ConnectiON – Issue 11
Welcome to this special edition of ConnectiON.
In this new issue, we are pleased to be able to tell you more about our Safe Systems of Work (SSOW) which ensure that our staff, customers and service users are safe, and can feel confident
that any risks are significantly reduced due to us operating above and beyond the levels of protection recommended by Government during the COVID-19 pandemic.
We also share with you how these practices have been put into practice during a recently upgraded a fire alarm scheme in a sheltered housing scheme in Hinckley.
Download your copy now to read more.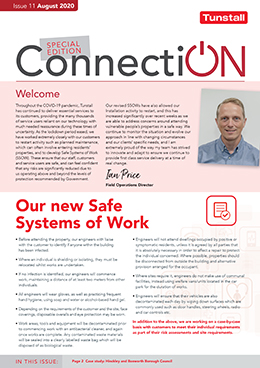 Issue 11 - 20/08/2020
Sign up to ConnectiON
Complete your details below to join our mailing list.
---